Executive Summary
Pros
Offers a free trial
Supports PC or Mac
Offers a wide range of data capturing features for general computer monitoring
Visible or invisible client
Cons
Immediately detected as malware
Not cloud based
Requires additional IT configuration to setup
Has no real productivity or attendance tracking features
Data is not captured immediately
Bottom line
iMonitorSoft is marketed as a productivity and attendance monitoring software package for employees but, in reality, it's just a client/server based PC administration tool.  Yes, it captures data from the client machines, but there is so much of it that it is easy to quickly get overwhelmed.  With no real graphs or data insights either and no email reporting, it's just too hard to install and use for most small businesses  to use it.
Installation
In order to test iMonitorSoft, we installed it on to a Windows 7 PC with AVG installed.  The installation file is a zip file which, when scanned by AVG,  immediately detected and deleted two files as part of iMonitorSoft.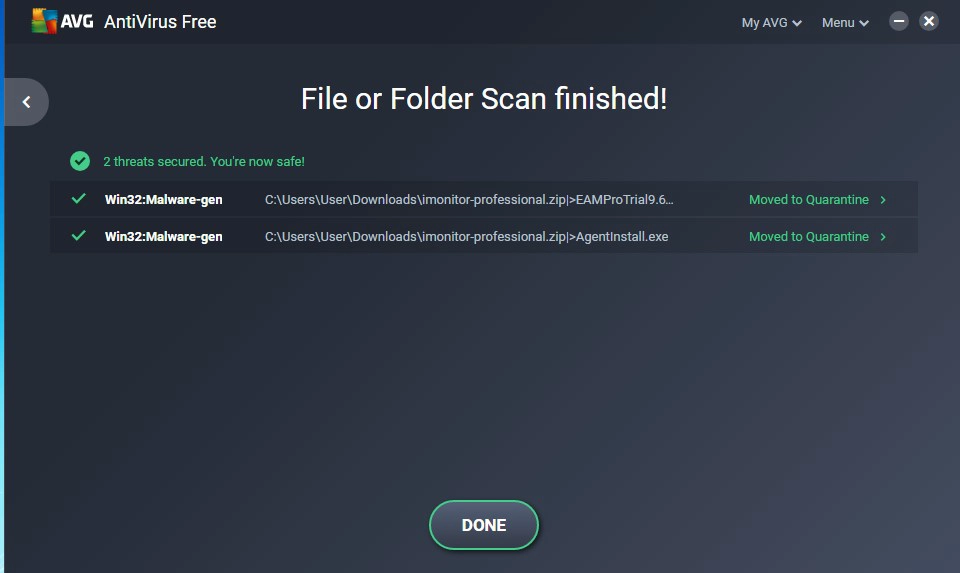 That means that in order to install iMonitorSoft we had to disable AVG and then run the installation file after we extracted the iMonitorSoft zip file.  Unfortunately, because antivirus is most likely handled by an IT department for employees, it means that companies have to take additional steps before being able to install iMonitorSoft so that the company antivirus does not flag it.
This already puts additional effort into the company.  If they are looking for an employee monitoring tool that is easy to install then iMonitorSoft may not be it.  Furthermore, iMonitorSoft does not provide any technical documentation for how to make sure that the software is not immediately flagged by antivirus, the same way that employee monitoring software such as KnowIT does.
iMonitorSoft is the first client-server based employee monitoring tool we have reviewed.  That meant we had to install the client portion of the software on our Windows 7 test machine but also set up a test server machine to install the server part so that the software could work properly.  Again, this is additional strain and requirements needed for the IT company, and many small businesses that are looking for an easy to install employee monitoring solution may be put off by the effort needed by iMonitorSoft.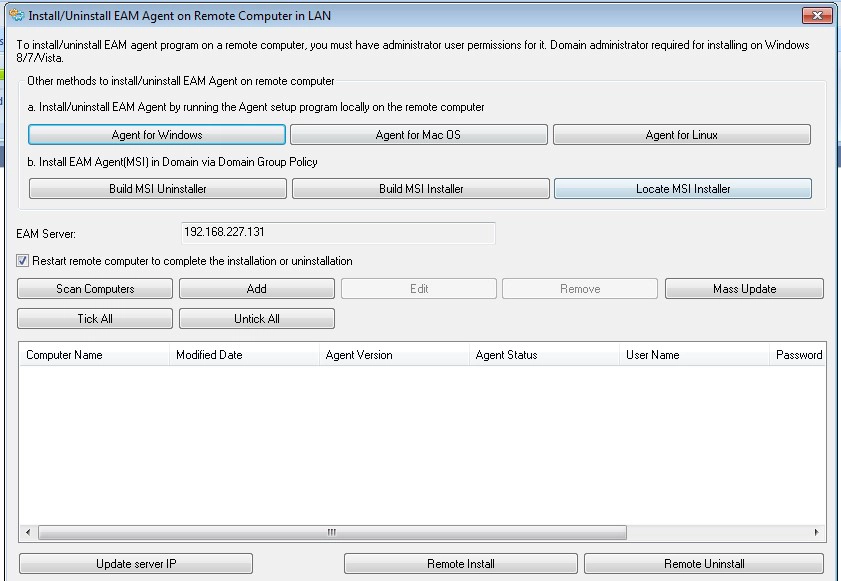 Immediately then setting up iMonitorSoft is closer to employee monitoring software such as Veriato 360 instead and this may be too time-consuming or too technical for many small businesses who want to monitor their employees.
Features
However, for businesses that can manage to set up the software correctly, it does offer a lot of attractive employee monitoring features.  However, these features are not specifically tailored for companies who want to monitor their employees.  There is no attendance monitoring (not even log on and log off times), and there is no way to set apps or websites as productive or unproductive.  They can only be blocked or unblocked.
To change the settings, such as what features are captured or how frequent, this is done from the main Server-side dashboard, and then the changes are pushed to the agent software installed on the client computer that iMonitorSoft is monitoring.  By doing this, you can block or unblock specific applications or websites as well as set up keyword alerts so that activity on the client computer starts capturing when certain keyboards are typed into the client machine.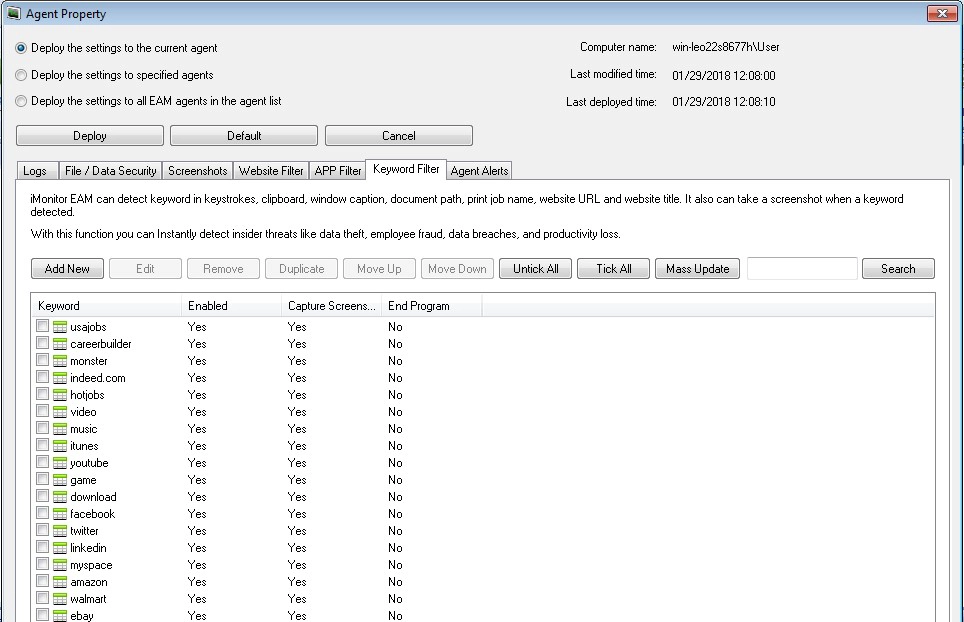 iMonitorSoft also allows you to disable USB devices from being monitored or make them read-only, as well as set what files should be monitored systemwide based on their extension (e.g. PDF files).  You can also set the app by prohibiting file extensions based on certain scenarios.  For example, this means blocking file extensions for popular social media applications or web browsers.
Sadly though, as with Veriato 360, their IM capturing and webmail capturing is out of date and only captures old applications such as ICQ or Windows Live Mail.  This is the same as Veriato 360.  In fact, like Veriato 360, iMonitorSoft is not actually designed with employee productivity or attendance monitoring in mind.  They just group certain features together and then advertise it on their website as productivity monitoring.
For example, when it comes to monitoring social media sites, they have decided that Firefox, Internet Explorer and Chrome are all included in this category which is not an accurate way to measure the social media usage of the employee.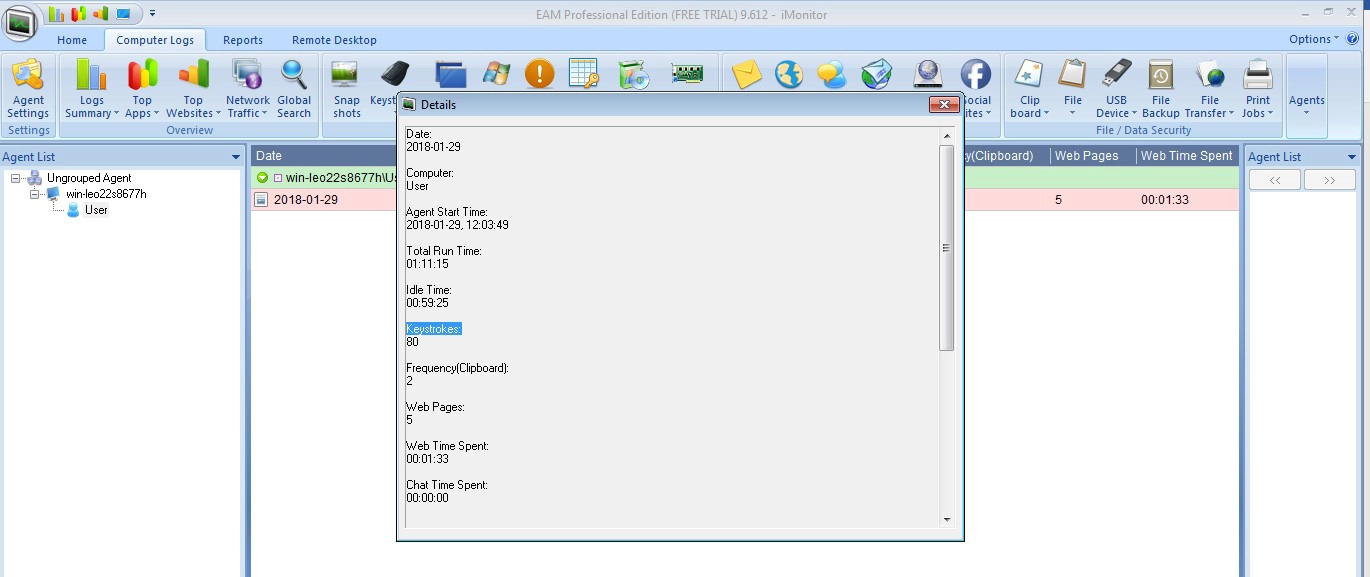 We found that data capturing was not immediate.  For example, no websites were captured until we went to the client machine, browsed to more websites and then went back to the server and logged in again and viewed the data from the client.  Then the websites we had just visited using the client machine were shown.
In terms of reporting, there are no graphs showing the data usage of the client machine.  Everything is in a tabular format.  This means that you quickly end up with a ton of captured data that you have to sieve, through in order to find something interesting and many small businesses just don't have time for that.  Similarly, email reporting is non-existent so you cannot have employees or managers at least emailed important data so that they don't have to keep logging in to the portal all the time.
Support
Support from iMonitorSoft is provided through email, mainly.  However, they do offer live chat for basic technical issues, and they were able to answer our questions about why data was slow to upload.  They never answered this question and decided to only focus on our second question instead which was setting up antivirus  They also provide support over Skype, according to their website, but this was not tested during this review.  The live chat support was quick to get us to contact them using this method.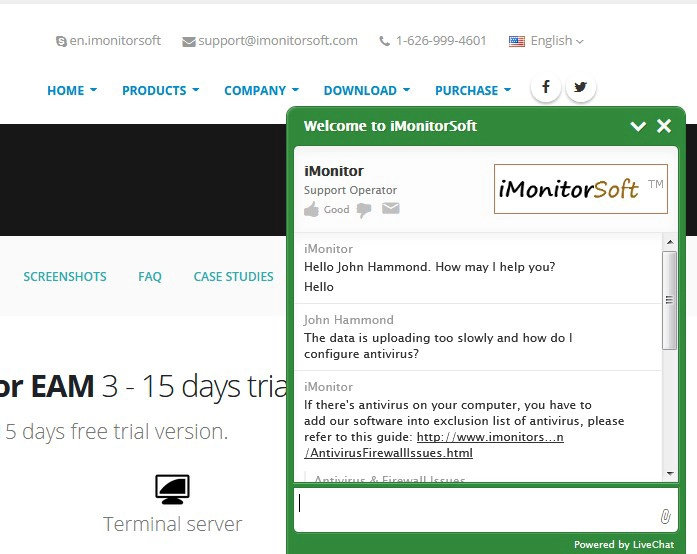 It was only by contacting them by live chat did we get told they do have documentation for setting up antivirus.  This document is not advertised anywhere so if companies do not contact support for help on this before they install the software then the software either won't be installable because the company antivirus will block it or the software will be installed but later removed by the same antivirus (depending on settings), and that is not good practice if the software has to be reinstalled again to fix the issue.
Overall the support team were quick to respond and whilst they answered one of our questions they failed to acknowledge another.  This leaves us with a bad taste in our mouth in terms of getting support overall for iMonitorSoft.