Executive Summary
Workpuls is employee monitoring software designed to monitor PCs.  It is advertised as being able to monitor both employee attendance and employee productivity.
Pros
Offers a 7-day trial.
Software can be installed as either visible or invisible
Easy to install
Supports PC or Mac
Cons
Immediately detected by antivirus
Productivity and attendance are not actually monitored effectively
Dashboard is hard to use
Captured productivity data doesn't match up with real-time data
No customer support inside the online portal
You have to sift through screenshots and captured data to find anything of interest
No scheduled email reports of employee productivity or attendance
No real employee monitoring features (e.g. keystrokes, files transferred or IM capturing)
Bottom line
Whilst Workpuls may advertise that it tracks employee productivity and attendance that is just not true.  The software acts more like a project management task application than a monitoring application and getting support shouldn't be as hard as it is either.  Overall, it over promises and under delivers on the key features that are advertised on its website and so cannot be taken seriously as an employee monitoring solution.
Installation
For our review of Workpuls, we decided to install it on a Windows 7 based machine to see how well it captured the employee data from that machine.  Installation was all done online through the online portal.  To get the actual downloadable installer, you must configure the software settings first.  That means that you must answer a series of questions, such as if you want the software hidden or not or how often you want to capture screenshots. This creates a tailor-made installer for that machine that you simply double-click to install.
What is interesting is that there are different installation files based on the different version of Windows.  So, installing it on a Windows 7 machine meant that we had to use a different installer to installing it on a Windows 10 machine.  On all the machines we tested it on we also had AVG Antivirus installed as well.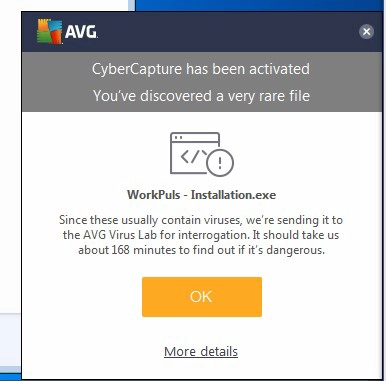 The installation file was not detected as a virus by AVG.  However, as soon as we started the installation AVG immediately decided that something was bad inside the file and the file was scanned and then flagged.  The only way we could then get Workpuls installed was to complete uninstall AVG.
Features
Workpuls is designed to monitor both employee productivity and attendance.  It does this by allowing you to constantly review the websites and application that are currently in use and you can set these productive, unproductive or neutral.  As with other employee monitoring packages, such as a Teramind, productivity is defined as tasks that the employee is currently worked on.
That means that you must take the time to set up what project the employee is working on.  If you do not take time to set this up for them, employee productivity will not get tracked.  Projects are based on assigning a dollar value amount to each employee based on what they are working on.  Furthermore, each employee must start the project that they have been assigned to monitor their productivity, same as Teramind.  Again, this is interesting because the Workpuls website advertises as one of their features that this is all done automatically.  It isn't.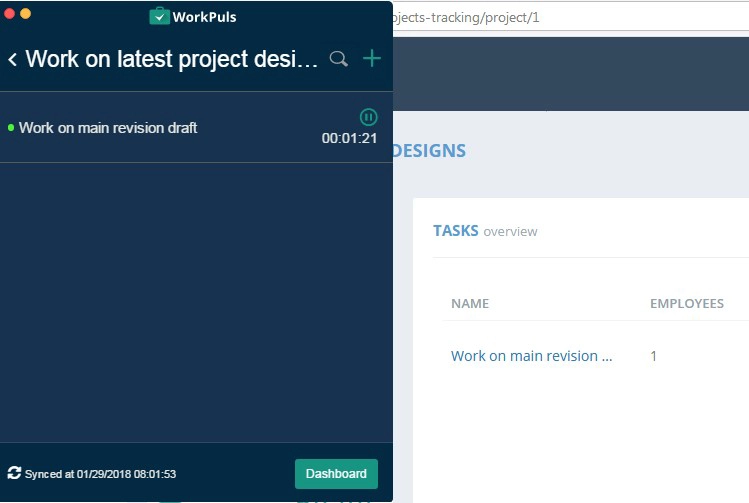 The online dashboard itself is hard to navigate and use.  It is not immediately obvious which options control which features.  For example, there is no way to set employee attendance in the Time & Attendance section of the portal even though the ability to measure work time and break time is advertised as one of the features on the Workpuls website.
Instead, Workpuls just measures the time each employee logs on or off as the clock-in and clock-out time and works out the time spent in the office.  There is no way to set the office or company work hours to compare the work time of each employee against after you have installed the software because it is all set up first before you download Workpuls.  This means to make changes to what settings are enabled or disabled you can be looking at having to uninstall and reinstall the software which is not practical.
Productivity also measures the time that the employee is active.  For Workpuls, as with Teramind, this is defined as when they keyboard, and mouse is in use.  This is not really an accurate way to measure productivity because even though the mouse and keyboard may be in use by the employee, giving them a high productivity score, what they are doing may not actually be productive (such as spending all their time on Facebook).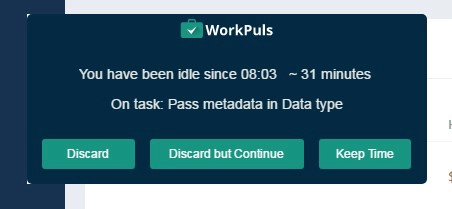 You can, however, get a real-time view of what each employee is working on.  This shows you an at-a-glance view of what application or website they are currently using at the time. But we noticed that the real-time option was not as real-time as it should be which is not good if you want to use that features to see exactly what your employees are up to at any given time.  During our testing, the real-time option correctly identified us using web browsers such as Firefox and Chrome and even said what sites we were on but when we went to the specific Apps & Websites section of the dashboard to see our total usage it was not listed.   We later discovered that this only gets updated when you log out of the Workpuls portal and log back in again.  When you do that the real-time data is accurately updated which means that the real-time capturing feature is not really real-time at all.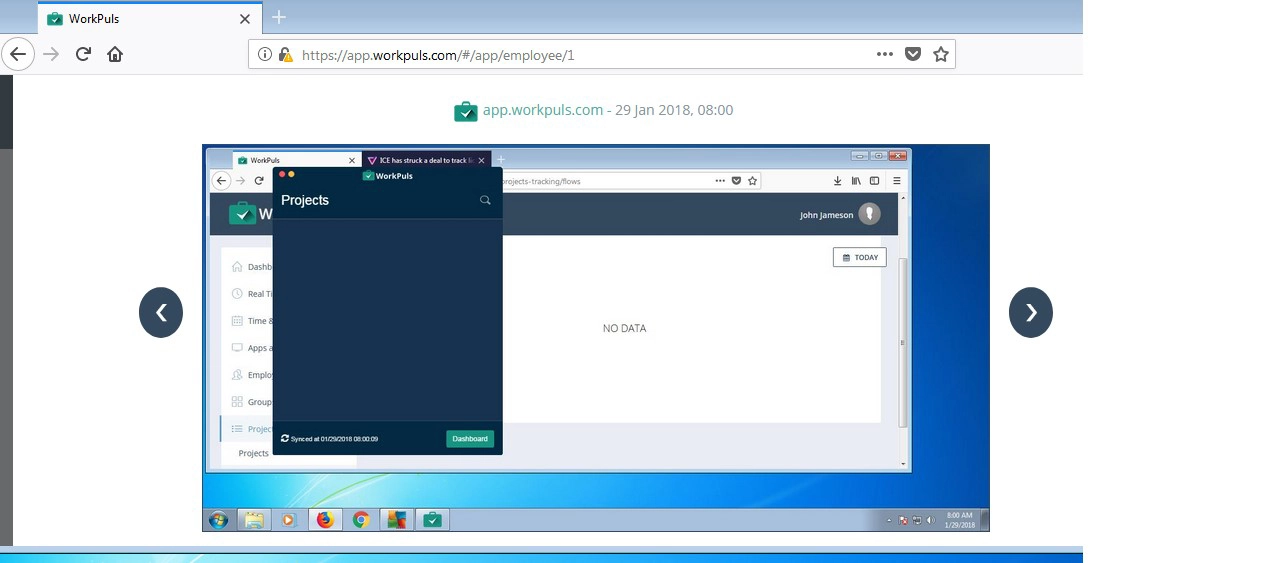 That means that there is something of an inaccuracy between real-time data shown in the portal and data captured overall.  For us, Workpuls never updated the apps and websites past its own app after we had successfully installed it.  Screenshots are captured according to the schedule set when you downloaded the installer, but they are captured one at a time.  That means that if you capture lots of screenshots for an employee you have to spend time sifting through them all to find things that are of interest.  There is no email notification of an employee summary to spare you the time of having to do this.
Workpuls itself has far less actual employee monitoring features in it than competitors.  This is why it cannot be taken seriously as a real employee monitoring software package.  There is no way to monitor things like keystrokes, browser search terms, IM's or files transferred to or from the employee's machine.  We don't know why Workpuls has chosen to not have these features but if they really are focusing just on employee productivity and attendance as they state on their website then they even fall short doing that.
Support
Trying to get support from the Workpuls portal is difficult.  There is no option to contact support inside the online portal, so if you need immediate help with any data inside your online portal, or any of the features, you can't get it in a timely manner.  To get the support, you have to contact the support team on the Workplus website itself.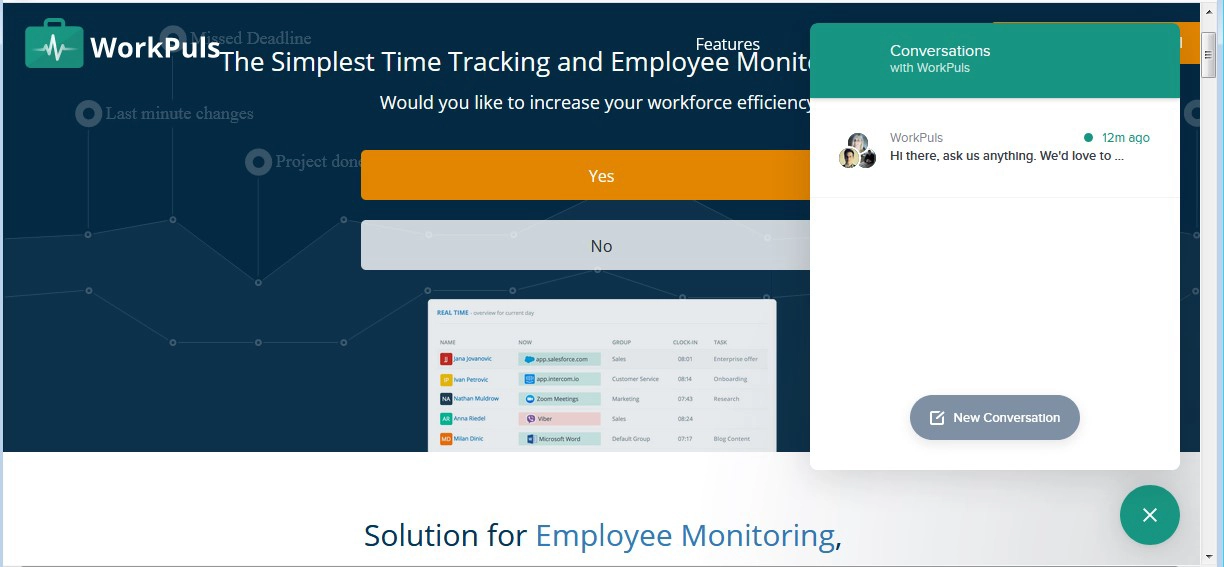 This is done through Livechat only.  In our tests, they actually replied quick enough to allow our questions to be answered but the fact that you cannot get immediate help from  the online portal puts it at an immediate disadvantage compared to its competitors and is definitely something that the company needs to improve on so that customers can get timely support to their Workpuls issues directly from the online portal instead of having to visit the website each time they need help.